Slowing down doesn't mean stopping as these seniors find freelance care-giving options that allow them to pursue what they love while getting paid for it.
For many seniors, retirement is the start of another phase of life, where they can enjoy a different pace and engage in the activities that they have always been interested in.
But retirement doesn't necessarily mean stopping work altogether. Freelancing is a great option for seniors who want some extra income to supplement their lifestyle. Not only does it keep you active, it also allows you to still enjoy your other activities such as your hobbies or looking after your grandchildren.
There are many different part-time jobs available for seniors, but one especially suitable role is in caregiving. When you add caregiving into the mix, you also get to help others in need.
Three seniors, who have been freelancing for several caregiving-related organisations, share their stories with The Pride:
He freelances to lend a helping hand to others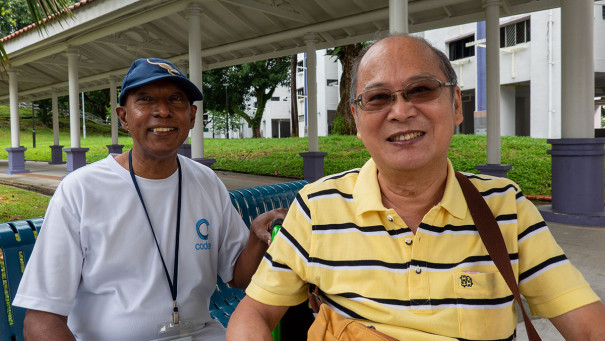 Peter Anthony, 68, has always enjoyed helping others. Before retiring in 2017, he worked as a darkroom technician in the X-ray department at a local hospital and used to help patients back to the wards after taking their X-rays.
He also studied massotherapy, which is a type of massage therapy that uses acupressure for pain relief, before retirement so he could help seniors with walking problems.
Also, as a White Cane Club volunteer since 1973 at the Singapore Association of the Visually Handicapped (SAVH), he would help take clients to the polyclinic for checkups.
He wanted to supplement his income and stay occupied after his retirement and so Peter found out through a friend about Coddle, a company that provides care services to seniors. As a 'coddler', he mainly takes patients to the NKF Dialysis Centre.
He is sometimes the same person taking them home and this is crucial as their safety is of utmost importance, as Peter explains to The Pride.
"They go through a lot of crises so we must empathise. When they finish dialysis, they could be bleeding a little at the site of their insertion or they could have low blood pressure, which could result in fainting."
Since he started freelancing in 2018, he has been helping about 10 regulars ranging in age from 55 to 70. Currently, he is serving those in the Bedok area, where he lives.
Helping his clients has also extended beyond the usual dropping off and picking up.
He shares a story of a client in her 60s who goes to the dialysis centre. One time, she called him and said she didn't have enough food so he bought her a meal before taking her to the centre.
"Anything I can assist in their requests, I would try my best," says Peter, who recounts how he even bought headache oil for that client.
Helping people is in his blood. When Peter was younger, he used to give food and money to a schoolmate in financial difficulties. He has also received the Courage Award, which was given out to healthcare workers in 2003 in recognition of their extraordinary courage and selfless dedication in the fight against SARS.
Besides being able to help and getting to meet people, he also enjoys the flexibility that freelancing offers. "Freelancing is good as I can spend time with my family and my 93-year-old mother, and also continue my volunteer work.
"Seniors should consider doing freelancing in areas they enjoy. When your mind is occupied with things you love to do, then ageing takes a backseat."
The grandfather of one added, "I don't feel doing this is a burden. I feel I am able to contribute in this small measure and make the seniors' lives easier."
Freelancing gives her flexibility to do other things
Like Peter, Gemi Wong, 60, enjoys freelancing as it gives her the flexibility to manage her own schedule.
She can take more jobs or even fewer – it is really up to her.
She tells The Pride: "Freelancing allows me to have more time to do the things that are important to me such as visiting my friends and loved ones. At the same time, I can also earn extra income."
Before her last full-time job in 2016 as a teacher at a kindergarten, she was teaching for almost 20 years.
More than a year ago, she learned about CaregiverAsia, an online platform that provides caregiving services, and decided to try it out. She has served more than 20 clients so far.
As a care professional, she provides her clients with a number of services including babysitting, care companionship and more recently, even temperature screening at a dialysis centre.
Currently, she provides medical escort services six days a week, at an average of about 18 hours in total.
The mother of three shares a memorable experience of kindness when she was providing babysitting services for a client.
"They were very happy with my service. However, I had to quit as I was not comfortable with their dog. I was very touched when the family offered to put their dog at a relative's place so that I would come back! Nonetheless, I declined the offer as I believe that the dog should stay with the family."
Though she still prefers teaching, freelancing is a better option for her now.
"I needed to do quite a lot of preparation at home when I was teaching but with medical escort services, there is no need for that. The escort job suits me better."
She adds, "As a medical escort, you need to always put yourself in their shoes and try to understand why they are feeling and behaving in a certain way. There is always a reason for this."
Besides taking up training offered by CaregiverAsia to supplement her skills, Gemi has also taken other courses including some from NTUC LearningHub on elderly care.
She freelances to focus on doing what she is passionate about
If you have a medical background, freelancing also opens up a wider pool of opportunities.
Sixty-three-year-old Alimah Musleh has been a nurse for over 46 years. She joined the profession in 1974 in response to a nationwide recruitment effort when she was only 17. Since then, she has worked at various healthcare facilities including public and private hospitals, daycare centres and even at a women's prison, providing mostly care for adults and seniors.
It was this year that she learned about Homage, another online platform offering caregiving services and made the switch.
Currently, she supports nurses in a hospital ward setting, assisting patients with their activities of daily living (ADL), administering required nursing procedures for patients as well as engaging individuals with dementia through stimulating activities via cognitive therapy. Her patients are mainly adults and seniors.
The grandmother of five works about 40 hours a week, less hours than what she puts in as a regular nurse, and is finding freelancing a nice change of pace from her previous work.
"Freelancing gives me the ability to have more personal time and arrange my work schedule as per my preference rather than fixed work shifts."
For instance, she explains, when working full-time in a hospital, it is mandatory for ward nurses to have night shifts for a fixed period.
"I can now take a breather from juggling the different demands that used to come with managing the team, filing paperwork, etcetera.
"Through Homage's services, I am able to get back to what I am most passionate about – focusing on providing hands-on care to care recipients and watching them improve day by day," shares Alimah.
She recalls an incident where she was able to save the life of one of her charges.
"A senior I was caring for suddenly began choking and turning blue in her face. I immediately did the Heimlich Maneuver, which thankfully helped the senior properly breathe again.
"Having been there at the right time and reviving her remains one of the most important memories of my nursing experience."
She adds: "Looking back, I do not regret becoming a nurse. It is a worthwhile, noble cause and a life skill. My nursing knowledge has allowed me to personally care for my aged parents before they passed on and to render help and support to the sick or anyone in need."
She is happy to continue being a nurse while at the same time enjoying her flexible freelancing schedule. She can now spend her weekends visiting her children and grandchildren, and keep physically active like going cycling.
"I'm a person with wanderlust. I love to travel and see new sights and places. But with Covid-19, I have settled now on exploring different parts of Singapore. I recently took an end-to-end ride on one of the MRT lines!"
She highly recommends freelancing for seniors.
"For seniors who would like to pursue their passion and have time on their hands, consider freelancing. It gives you the opportunity to do meaningful work at your convenience while earning a bonus income."
Top Image: CaregiverAsia, Coddle, Homage
Other articles you may like:
Caregiver Burnout: Caring for Individuals with Mental Health Concerns
Reminiscence Therapy for Dementia
Home Care Needs of a Stroke Survivor
Did you enjoy this article? There's more where that came from. So, come subscribe to our blog to make sure you do not miss the interesting, informative, and some fun articles and videos we share!